Strong stock market rallies, like the one we saw last week, have usually occured after periods of excessive fear. An overly fearful investor is an irrational investor, and some of the things that he or she might do is, for example, sell a stock below its intrinsic value, over-pay for market insurance in the form of a put option with high implied volatility, or even buy the put option when it is entirely not needed.
The put/call ratio is a reasonably good proxy for the level of fear and a very large number of traders follow it to measure irrationality-driven market chaos, which ultimately results in very good buying opportunities. Over the past three years, traders have become accustomed to buying the market when the put/call ratio has made a higher high and reaping huge profits.
But, something unusual happened last week. If a trader had faithfully been following the put/call ratio and waiting for a higher peak, they would have missed the big bounce. So, why did the trusty indicator fail to signal this entry point? Here is one hypothesis, but first look at the chart below.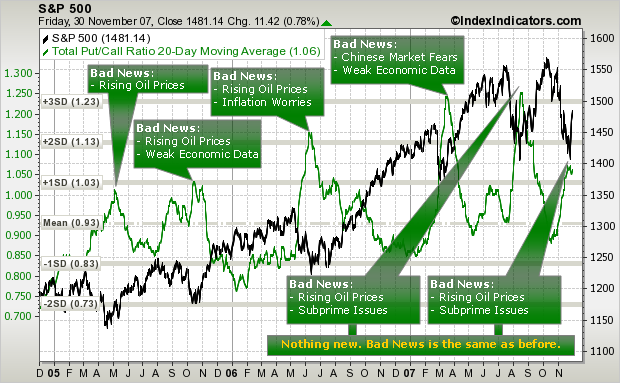 The latest decline was not accompanied by bad news that we didn't know about before – the same energy and subprime issues. Investors have become immune to these uncertainties. It would take either a very severe deterioration in the subprime situation or an entirely new negative event to shock investors into excessive buying of put options and pushing the put/call ratio to a new high.
Investors, being human, are highly adaptable once they know where they stand. It takes something new to produce in them the same level of high emotions as before.